5 MINUTE READ
In theory, I love autumn. The chill in the air. The colours. Long walks on crisp leaves.
The reality is, however, you slip your way through soggy leaves, your umbrella blowing inside out as conkers whack you on the head.
However, what I really do love about autumn though, apart from the return of Steak Pie Season, is the darker evenings when there's nothing better than cosying up with a good book in front of a warm fire.
So whether you fancy A Short One or A Scary One or even A Rumpy Pumpy One…here at 7 of my favourite reads…
A Short One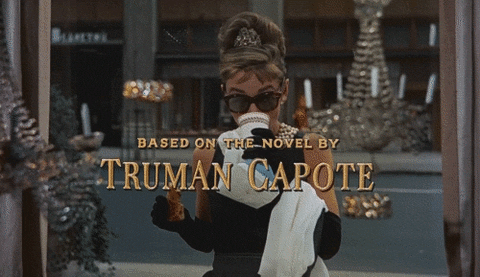 Breakfast at Tiffany's – this novella by Truman Capote, published in 1958, is not quite the romantic comedy that Hollywood turned it into.
It's the story of Holly Golightly a country gal who, having escaped an early marriage (very early…she's actually a victim of child abuse having been married at 13!!), lives the crazy, but entertaining, life of a New York Good Time Girl.
The tale is told by her (unnamed) male neighbour/ friend, who is probably gay and probably a little bit in love with Holly. Go figure.
It's short & sweet & complicated & sad & funny.
A Scary One…Set in Scotland
The Ice Twins by S. K. Tremayne
Following the death Lydia, one of their identical twin daughters, a London couple move to Torran a barely habitable island off Scotland's Isle of Skye with their surviving twin, 7-year-old Kirstie.
When Kirstie starts to take on some of the personality traits of her dead sister – she's suddenly better at reading and worse at maths, and even the family dog is confused – then announces that she is her dead sister, the mother, Sarah, starts to question which of her daughter's really died.
What actually happened the day the twin died is slowly and creepily (if that's a thing) revealed, as you read, wide-eyed.
This is a thriller, a mystery and a ghost story all at the same time.
Check the doors are locked and don't read after dark.
A Sizzler
Maestra is the first in a trilogy of books (I've just finished the second Domina) by LS Hilton.
It's a modern-day The Talented Mr Ripley, with knobs on.
Judith Rashleigh is a lowly assistant in a prestigious auction house whose smarts, talent and ambition are getting her nowhere. So, to bring in some extra money, excitement, and control in her life she takes an evening job in a 'Hostess Club' which leads to a trip to the South of France with one of the Club's regulars. She then deftly navigates her way through a sudden death, some serious theft, a couple of murders, a bit of identity theft, a complicated art fraud (which was a bit hard to follow), and a fair number of raunchy encounters.
This is a thoroughly enjoyable romp around high-end Europe – London, Cannes, Venice, St Tropez, Portofino, Courchevel, Lake Como and life on board a billionaire's yacht. And LS Hilton is the best name-dropper since Bret Easton Ellis wrote American Psycho. I was constantly Googling the art and brand references – Eres Bikinis, K Jacques Sandals, Frete bed sheets, Primark (joking!) .
Apparently, a movie is on the way…can't wait.
A Noir One
The Big Sleep by Raymond Chandler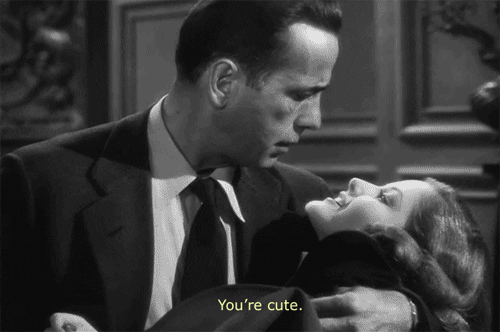 Best known for his hard-boiled Private Investigate Philip Marlowe, Raymond Chandler is the King of the Killer Line.
The plot of a Chandler novel doesn't necessarily matter – there's generally a blonde with long legs, a killer, a gangster and a blackmailer. It doesn't always make sense (Raymond was a bit of a drunk) but you really don't care – his one-liners are to die for…
"I needed a drink, I needed a lot of life insurance, I needed a vacation, I needed a home in the country. What I had was a coat, a hat and a gun. I put them on and went out of the room."
"It was a blonde. A blonde to make a bishop kick a hole in a stained-glass window."
"She gave me a smile I could feel in my hip pocket."
"To say goodbye is to die a little."
"From 30 feet away she looked like a lot of class. From 10 feet away she looked like something made up to be seen from 30 feet away."
"I was as hollow and empty as the spaces between stars."
"Dead men are heavier than broken hearts."
"I smelled of gin. Not just casually, as if I had taken four or five drinks of a winter morning to get out of bed on, but as if the Pacific Ocean was pure gin and I had nosedived off the boat deck. The gin was in my hair and eyebrows, on my chin and under my chin. It was on my shirt. I smelled like dead toads."
Get the drift.
A Guilty Pleasure
Anything by Mary Higgins Clark is ideal for a rainy Sunday afternoon, with endless tea and a box of Milk Tray on the side.
A Mary Higgins Clark is easy and predictable and satisfying – the bad guy always gets it.
If you need to read it in public you could nick the dust jacket from one of your high-brow classics and cover your beloved MHC or you could hold your head high and declare to the world… I Love A Bit of Trash.
A Hard, But Worth It, One
The Handmaid's Tale by the uber clever Margaret Attwood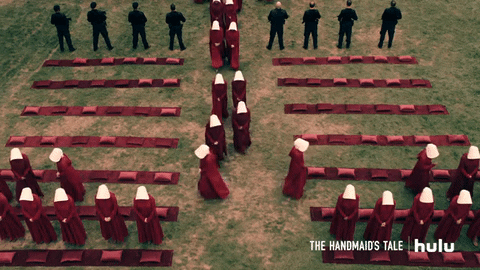 Did you watch the TV series?
Did you want to slap men?
Under His Eye…My pants.
Briefly…. set just slightly in the future when everything has gone to pot. Most people are infertile, there's been a revolution and Gilead (formerly the good old US of A) has become a totalitarian state run by a fundamental Christian movement.
Ermmm starting to sound a bit familiar.
The Handmaid's Tale (published in 1985) tells the story of Offred – the name she's been given, in her new role as a Handmaid to Fred (no not Flintstone)…a high ranking Commander, hence Of Fred.
Offred, and the other Handmaids are few fertile women left, whose role is to provide children, by proxy, for the infertile wives of Big Shots by way of The Ceremony – which is as chilling as it sounds
The most shocking thing about The Handmaid's Tale is not the horrific practices taking place in Gilead – the public stonings, rape, enforced surrogacy & adoption, executions without trial, women controlled and disempowered and forced to cover up, but, the fact that, as Attwood has stated, everything in the novel has happened…'Somewhere at some time. I made nothing up.'
Which means it's perfectly possible at any time.
Once read, The Handmaid's Tale stays with you…every time I'm at a Cashline machine and can't get money out I can't help but think… Oh Oh…Here We Go!!
A Non-Fiction One
Love's Executioner by Dr Irvin D Yalom.
Yalom, a renowned psychiatrist, is a master storyteller who gives us a peek into the lives of ten of his patients
What's made Thelma spend years raking over a long-past love affair?
Why is Saul tormented by three unopened letters from Stockholm?
How did Carlos's macho fantasies help him deal with terminal cancer?
Dr. Yalom is honest about his feelings, errors, and prejudices and gives us a rare glimpse into the consulting room of a therapist.
Fascinating stuff, which leaves you feeling really rather sane.
QUICK FINAL BONUS – I hear Eleanor Oliphant is Completely Fine by Gail Honeyman is excellent. I'm waiting for the paperback.
THE END
Don't miss a trick…you can also find me on…
Twitter @MidlifeSmarts
Facebook https://www.facebook.com/MidlifeSmarts
Pinterest https://www.pinterest.co.uk/midlifesmarts
[jetpack_subscription_form title="Get Regular Updates" subscribe_text="Pop your email in & I'll drop you a line when a new post goes live" subscribe_button="Sign Me Up"]