5 MINUTE READ
Most people I know have an

OMG Weight

.
Regardless of how much over your ideal weight it is – it might be 1lb it might be 100lbs – it kicks in when you step on the scales, look down, screw up your nose, adjust the little wheel thing at the top of the scale, realise it was right first time, then mumble OMG.
And you just know that you've reached that point in life where it's time, FBI-style, to….
Drop It.
Get You Hands in the Air.
And Step Away from That Muffin
…NOW!!
http://gph.is/2cUa0YX
I've hit my own FFS weight recently and it's still accelerating, Capatain Kirk.
And if I don't quickly scurry back across that particular Rubicon, like pronto, I'll soon be hitting the corner of Bingo Wing Boulevard & Muffin Top Avenue then heading straight on to Spanxville …which is a particularly hot and humid place to be.
Now I know weight is a personal thing and one person's feeling too heavy is another person's just right. And tons of people don't…to quote Judge Judy… Give a Rat's Behind about their weight.
And hey, that's all fine by me.
But I do.
I'm not fanatical though. I'd prefer to Eat Dirty than Clean any day of the week and Super Skinny, Bikini Body, Size Zero, Blah Blah are just not on my To Do List. I'll leave that to gorgeous young Millennials and the super rich… oh, and people from LA.
Basically, I just want to be NOT FAT
But gee whizz …it's really hard to be not fat these days.
Back in the olden days, before Giant Bars of Dairy Milk had been invented, it was quite hard to be fat.
When I was at school there weren't really any good snacking opportunities out there. Fast food was a packet of Golden Wonder Crisps and nobody got to carry about their own personal 2 litre bottle of cola. There was only one overweight kid in my class – and that was probably a thyroid thing.
Now – well now, all you need to do is have breakfast lunch and dinner every day, the odd mid-afternoon scone, a couple of nights out, a (skinny) latte and (skinny) muffin a few times a week and hell girl, you're up dress size bigger and your BMI is off the Richter scale.
.
If, like me, you love a cake and chips and wine and pizza & pasta (ok, sometimes on the same plate), and you know that eternal truth that is nothing nicer than a cup of tea and a handful of Cadbury Roses… and…well, basically you'd quite happily guzzle just about anything that's not that great for you (in my defense I am from Glasgow, the European capital of heart disease) it's really hard not to end up at your OMG Weight.
Temptation is everywhere. 3 for 2 (I only want is 1 actually!!), checkout guys asking if you want a Enormous Bar of Fruit 'n' Nut with your bottle of water not forgetting The Eat All You Can Buffet joints (now those I can resist).
And food has become bigger ….take Victoria Sponge for example – do you remember the days when it was perfectly possible to pick up a piece of Victoria Sponge shove it in your gob and it would be gone in 3 or 4 bites. Now you need a fork and a spoon, at least 3 napkins, 10 minutes…and then schedule in an appointment for an artery cleanse.
And, since I'm on a Jamie Oliver-esque rant… all the while the Food Industry is throwing too much crappy, sugary food at us the Health Industry make us sit on the naughty step if we do put on weight.
POLITICAL MOMENT ALERT!!!!
Just an idea, Mrs May (I suspect she's a regular reader, although she's not commented yet)… why not get the

Health Guys

to tell the

Food Guys

to STOP IT. You're welcome.
Meantime, I'm afraid, it's down to us to get on our savvy head on and question the marketing jizz.
Take the word Skinny for example – it's used for everything from Butter to Baked Beans to Brexit. Yep, it's a great marketing word, but it does seem pretty absurd to describe a Starbucks Blueberry Muffin (oh I do love them) as Skinny when it's 312 calories…that's the equivalent of 2 poached eggs on toast and a finger of KitKat.
So getting off my political high horse and back to my OMG Weight… although super skinny-dom is not for me – neither is having to think about pulling on a pair of Spanx every time I head out for a pint of milk.
So, for the next couple of weeks I am going to cut the crap. Fret not, I won't be resorting to any crazy Eat Only Pink Things and Never After 6pm Diet.
Basically I'll be going for a toned down version of French Women Don't Get Fat There are some great ideas in that book but a lot of it is hard to put in to action. It's all very well for French Women, who are born without the Bingo Wing Gene, and have the ability to feel satisfied after a sip of champagne, a soupçon of rabbit stew and a spoonful (a teaspoon, that is) of Mouse ou Chocolat.
Well Bully for French Women – but that just doesn't quite cut it for the rest of us
My version will be more along the lines of… British Woman Try Not to Get Fat… where I'll…
Cut The Crap
Step Away From The Muffin
Befriend The Ryvita
Embrace The Gin & Slim
Oh…and Move a Bit More
So Captain Kirk…I'm reversing the engines – we're leaving Planet FFS Weight and heading back to Planet You Can Once Again Fasten the Top Button of your Jeans. Once there we can boldly go on to a new Galaxy (love them) in a big Milky Way (love them too) for our holidays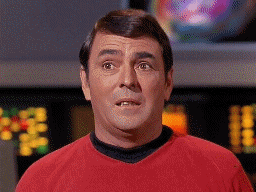 I'll update you next week on how I'm getting on. There'll be no bikini selfies – I promise.
THE END
Don't miss a trick…you can also find me on…
Twitter @MidlifeSmarts
Facebook https://www.facebook.com/MidlifeSmarts
Pinterest https://www.pinterest.co.uk/midlifesmarts
[jetpack_subscription_form title="Get Regular Updates" subscribe_text="Pop your email in to join the gang & I'll drop you a line when a new post goes live" subscribe_button="Sign Me Up"]