5 MINUTE READ
Birthdays are just so reliable.
They pop up year in year out, always on time, although they do seem to come around more frequently these days.
It's a friend's birthday next week and 6 of us will get together to celebrate over lunch. It's not a special birthday – you know one of those one that ends is a 0, or even a 5. It's just a plain old ordinary one, but that won't stop us getting over-dressed, drinking slightly too much wine, eating slightly too much food, talking over each other, slightly too loudly and generally have a rather splendid afternoon to ourselves.
The rules of The Birthday Gang are simple. You just have to make the Birthday Gal feel fantastic, tell each other you look amazing and you chip in £20 each for a pressie (which means you get something lovely when your birthday pops up again – cunning, eh)….oh and you must like each other.
Often – I am the one tasked with buying the pressie. Why is that gals?
J O K I N G
I enjoy it. Gift giving is one of life's pleasures – almost as good as getting them.
I've noticed however, that as one matures one's taste is pressies changes.
Take fragrant soap, for example. If someone had given me a fragrant soap when I was 19 I'd have mumbled a thanks, shoved it in to the local charity shop or re-gifted it (love that concept) to my Aunt Isa.
What I really wanted back then were the essentails in the life of a 19 year old – fishnets, a Zippo, a ticket for the next Siouxsie and the Banshees conert, my left ear pieced for a third time, anything leopard print that I could wear (it was the 80s) and make up – lots of it, the more lurid the better.
Now, well there's not much in life that I love more than a fragrant soap. Ok, I exaggerate. A nice Hermes Birkin would top it, but I do like giving and receiving frivolous things that you probably wouldn't dream of buying for yourself.
So here's a guide to buying great pressies for a friend
U

nder £10 – b

limey you're a bit tight
No, I get it, sometimes a wee minding is all that's required.
A bestseller– if you're really tight/budgeting pick one up a paperback in the supermarket for £3.95 and make it feel a bit more special by writing a personal message in the flyleaf, try something along the lines of…
Dear BFF I was buying the weekly shop and, while pondering which toilet roll offered the best value for money, I saw this and thought of you. Happy Birthday xox
A nice candle – the local chemist always has some for under a tenner.
Nice socks – with a little cashmere in them (John Lewis or M&S).
A soap – fragrant of course. I love these one by Roget & Gallet, which come with its own ready-made soap dish. About £6
Under £20
A voucher for a manicure from a good local nail place.
A good lipstick. Bobbi Brown, Mac – something from a department store counter rather than Superdrug. They might even gift wrap if for you.
A nicer candle – head to John Lewis or The White Company they have tons.
Nicer socks with lots of cashmere in them.
Under £30
Anything Chanel will delight (apart from the deodorant – that will disappoint).
When it's your birthday and someone turns up with that little Chanel gift bag, sealed with that classy black ribbon, you can't take your eyes off it. Sod all the other gifts and the cards with their heartfelt messages, the blowing out of candles – you just want to rip open that little white & black bag and get your mitts on the stylish treat inside.
My No 1 Chanel pressie is that little Chanel handbag mirror. Next time you're in a bar, whip it out and reapply your (Chanel) lipstick – you just can't help but look Smokin' Hot.
If you are pushed for time, a bottle of Champagne and a couple of glasses (you could pick it up in the supermarket along with the paperback and the toilet roll)
Under £40
A spa voucher – for any sort of pamper
A proper grown-up lady scarf – think Hobbs but try and find one locally
If you have time take yourself to your local museum or art gallery and head straight to the shop (see how cultured I am) they have lots of great gifts – like this lovely little thingamabob that I bought as a gift – and kept (it encourages you to take 15 Minutes out to think about or do something important – not work).
Under £50
We're getting in to Jo Malone territory. Again almost anything will delight – although I do think it's a bit overpriced of late.
Bath and matching body cream from Clarins and you sometimes get lots of extras that YOU can hang on to
One of those handy Pouchettes clutch bags. Biba, Mint Velvet and Kurt Geiger all have lovely ones for under £50.
Around £100 – blimey you're generous (want a new friend?)
Unless the birthday gal has dropped heavy hints about what she wants – keep it simple. Ask her or double up on some of the gifts above. Chanel Lipstick + Matching Nail Polish and Mirror; A couple of Jo Malone things or 25 paperbacks.
Gals – you might want to make the man in your life read this bit…
GIFT GIVING RULES FOR MEN
Right guys… it's quite simple. Never, ever, ever, ever buy anything that might imply that the woman in your life is anything other than a perfect creature that has wafted down from on high on a fluffy pink cloud of delightfulness.
So BAD gifts include…
http://gph.is/2cEqvpQ
Anything to do with hair removal. That includes tweezers, a Ladyshave, A No!No! (how much DO they spend on TV advertising) or a Course of Electrolysis (Google it)
Anything to do with looks or age. That'll be anything with the word Anti Aging on it as well as vouchers for hair colour, or worse still, Botox. She might want it. She might think she needs it. But she doesn't want you to think she needs it. So just don't.
Anything remotely connected to weight or fitness, which means that a gym membership and vouchers for personal training are out, as is a month's supply of nutritious, low fat meals delivered to her office or an annual membership of Slimming Club – you're entering dangerous divorce territory there.
Anything with a plug – unless it's to do with hair. That includes kettles, toasters, coffee machines (even lovely Nespresso ones) vacuum cleaners, electrical screwdrivers, a new giant telly, DVD player or a music thing or anything related to a car or a shed or a motorbike – even a pink helmet.
Underwear. You just won't get it right. Black and red rarely look good and if you buy too small you're in trouble and if you buy too large you're in trouble. Some nice cotton summer PJs or a silk nighty and matchy robe would be lovely, thank you very much.
So what SHOULD you buy.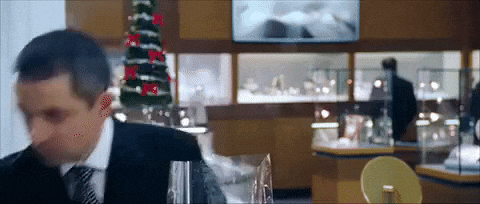 Pick from Friend's List above – or if you're splashing out think A B C and D
Accessories
A scarf – think silk or cashmere – not big wooly grey ones or anything with pom poms. Hermes would be sure to thrill.
Gloves (soft leather, pastel shades would be ideal) – wooly mitts will not do – no siree.
A Purse – something soft and leather with lots of pockets for everything. Preferably not black
A rather swanky pen – nope, not a Bic.
Anything from Smythson
Bags
WARNING!!!
Sit down. In fact pour yourself a beer…you are going to be truly shocked at the price of a designer handbag.
Honestly you won't believe it – I still find it hard to take in.
Get a pen and a piece of paper. Write down what you think the maximum price a new handbag might be (clue think high). Now, multiply it by 3 then add £200. Blink a few times, then go shopping.
Champagne
…in a box, which holds an envelope containing tickets for a weekend in Paris. You old romantic, you.
Diamonds
Big sparkly ones will be fine.
http://gph.is/2cPgid1
Please don't be tempted to venture in to E for Experiences.
She doesn't want to skydive, horse-ride or go Up Up and Away in a Beautiful Balloon.
She just doesn't.
THE END
Don't miss a trick…you can also find me on…
Twitter @MidlifeSmarts
Facebook https://www.facebook.com/MidlifeSmarts
Pinterest https://www.pinterest.co.uk/midlifesmarts
[jetpack_subscription_form title="Get Regular Updates" subscribe_text="Pop your email in to join the gang & I'll drop you a line when a new post goes live" subscribe_button="Sign Me Up"]